After an energy-filled opening day, Day 2 of reconference started with two plenary panels which spanned the issues of consent, pleasure and danger, who is a woman today, bodily autonomy and women in sports. Dynamic discussions were sparked as speakers from diverse backgrounds, practices and geographies, explored how the themes of consent and athletics are key issues for feminist movements today.
Here are the top takeaways from The Many Lives of Consent panel:
Consent plays out in many ways on many different bodies. Speakers from a variety of backgrounds and constituencies approached the idea of consent from many different directions, making it clear that there is no single way to consent. Consent can come in many forms but it must be mutual and given at the individual level. Even when this is enshrined in law, stigma, societal pressure and entrenched power structures can all erode this right to consent, with parents, families, and governments all believing that they have a say in defining a woman's right to legitimate consent.
We need to be talking about mutual, enthusiastic desire and not just permission. Consent is not just about the ability to say yes or no. Consent is about pleasure, or even pleasure and danger. Legal definitions of consent have largely been developed under the lens of violence against women, and enabling women to live violence-free lives is essential, but limiting. We need to start to include ideas of pleasure into the dialogue on consent.
Some women, including young women and women living with disabilities, are seen as unable to consent. We need to look at who is considered able to give consent. In Bangladesh, a girl is usually seen as incapable of consenting because the consent is not hers to give. Her body, her virginity, are seen as almost family rights. Those in the BDSM community explicitly negotiate and agree on boundaries. Women with disabilities, especially women with intellectual or psycho-social disabilities may be treated like eternal children who don't have the 'capacity' to consent. They are either assumed to be victims of rape or are deprived of pleasure – with no areas in between. Who decides who gets to consent?
Ideas of consent change when money changes hands. Sex work is work, and involves carefully negotiated terms between the sex worker and the client. Sex work is not a 'permanent state of consent' as is often mistakenly assumed. Neither is it the opposite. Sex workers may be deemed unable to consent based on simplistic stereotypes that they have only consented because they have suffered trauma or have been brainwashed. Decriminalization is about protecting this work using the same legal standards extended to other industries, which includes considering why the legal age for employment is different from the legal age of consent.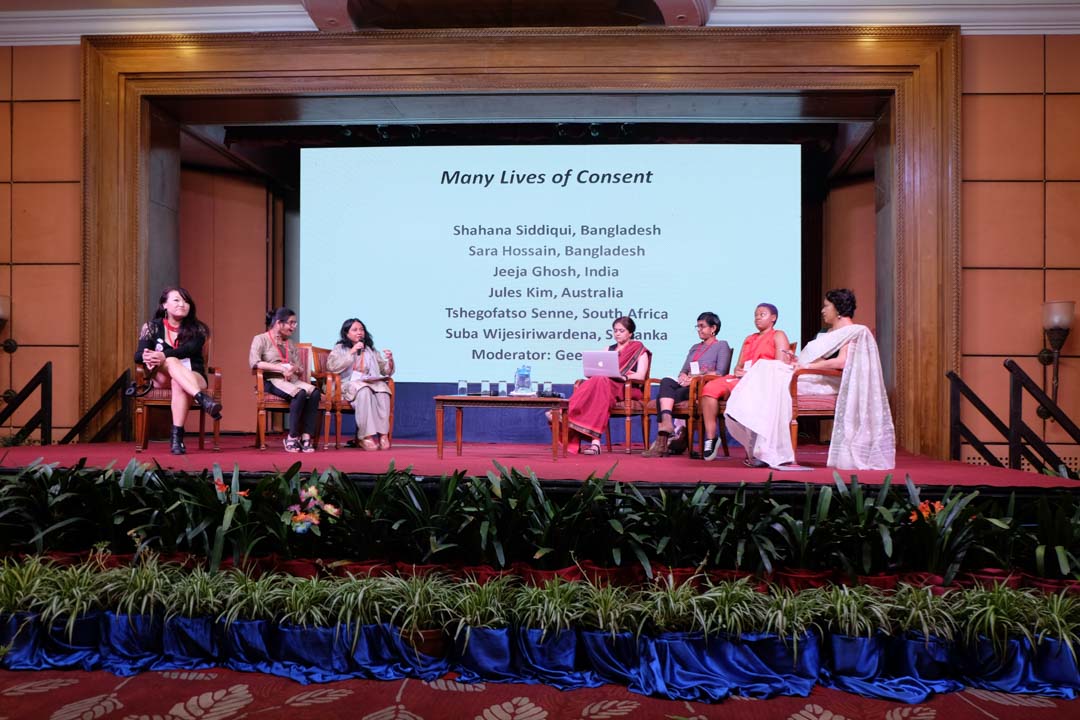 Following the panel on consent, the plenary topic shifted to speakers who explored the theme of sports in the Too Fast For A Woman plenary. From the talks with expert discussions to in-person and video interviews, top takeaways include:
Sports remain a space where women's bodies are surveilled. Governing bodies determine who has a right to compete based on standards which are presented as scientific but are designed to exclude. Female athletes, including Caster Semenya, Dutee Chand, and Pinki Pramanik, have been forced to undergo invasive and unnecessary medical interventions and public scrutiny.
Sports is about the game, as well as about visibility and mobility. Speaking in person, Pinki explained the pain of being torn away from the sports she loved and banned from competing. She was embarrassed to even go train after she came under unfair examination by a sports governing body and later by the police. This inability to participate in public spaces and to follow one's own aspirations is repeated in communities all over the world, where girls are kept hidden away at home. Involving girls in sports can be a means of increasing their visibility, mobility, and building self-confidence, all while shifting community norms which restrict these rights.
Changing discriminatory practices works best when you build alliances. Many women in sports have disappeared off the national and international stage after questions of their right to compete as 'women' – using a 'scientific' definition – were raised. One important lesson speakers shared from their victories over discriminatory rules and regulations in sports was that they began their battle as non-experts. It took years of alliance building across movements and sectors to build a case which ultimately changed these exclusionary standards.