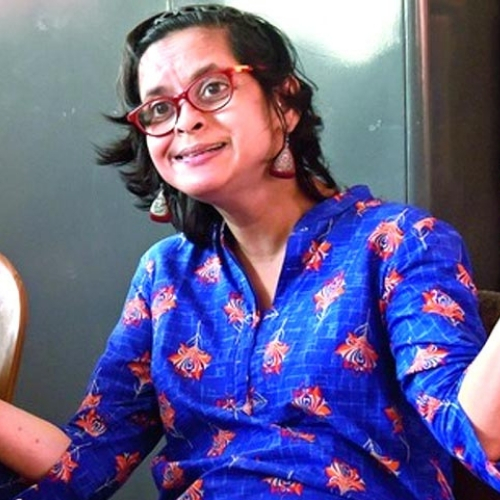 Jeeja Ghosh
Disabled Rights Activist
Jeeja Ghosh was born with cerebral palsy, a condition caused by lack of oxygen to the brain either during pregnancy, or at the time of delivery, or due to trauma to the brain in early life.

She studied at the Indian Institute of Cerebral Palsy and La Martiniere for Girls in Calcutta, and graduated with Honours in Sociology from Presidency College. She is a qualified social worker trained at the Delhi School of Social Work at Delhi University, and has a Masters in Disability Studies from Leeds University in the UK.

Jeeja has been involved in the social sector for more than two decades, and believes in the rights-based approach and dignity for all. She is a part of the disabled people's movement and is connected to other disabled rights activists all over India.

Until 2018, Jeeja worked at the Indian Institute of Cerebral Palsy as the Head of Advocacy and Disability Studies. Now, she works as an independent trainer and consultant on disability and gender.

She has co-founded two organizations – Ebullience Advisors LLP, which consciously moves away from the charity model of disability and Inclusion Infinite Foundation, a non-profit that strives to empower people with disabilities.

Her particular area of interest is disabled women. Her short-term research work with Action Aid has been published, and she has also worked with the School of Women's Studies at Jadavpur University. She has presented papers in many seminars and conferences.

Jeeja has a passion for writing poetry and the creative arts, and led a workshop organized by the British Council on creative writing for people with disabilities in 2005. A collection of her poems, River of Time, has been published and she had acted in a film called One Little Finger: Ability in Disability.

In 2007, Jeeja received the Shri N.D. Diwan Memorial Award for Outstanding Professional Services in the Rehabilitation of Persons with Disabilities, and the Role Model Award from the Office of the Disability Commissioner, Government of West Bengal, in 2009. A documentary made on her life, I am Jeeja, won a National Film Festival Award.