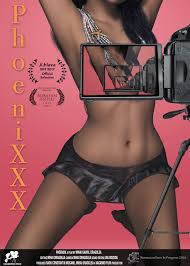 Phoenixxx
Duration: 51 min
About The Film:

The live chat industry is one of Romania's most prolific online revenue sources. More than half of the models that are found online come from Romania and the industry is worth millions of dollars. This is why a lot of Romanian girls see the live chat industry as a way out of poverty.

Mona came to Bucharest after she realised her deadbeat husband couldn't man up and take care of their 2 year old daughter. Thus the mother, Mona, had to leave her home town, Vilcea, and look for work. The first add she saw while googleing for jobs in Vilcea was for a chat studio in Bucharest. After a shaky start and hard times coping with the idea of being naked on camera and performing for strange online clients, Mona adapted to the job and itțs demands. Now she is having trouble finding time to stay with her daughter, as she starts elementary school. Only two days per week can Mona truly be a mother, she employed a nanny to stay over the long lonely nights. Mona tries to be responsible and to fit Carla in but the chat industry seems to keep her from acting as other parents do. Mona realises she has to quit and sees Carla, her daughter, as the only way out, as the drive to make a life changing decision.

Georgiana came to Bucharest when she was 18. Georgiana wanted breasts implants and a rhinoplasty so much that she searched for a chat studio. She quickly became one of the highest paid models on Live Jasmin, earning 12.000 dollars per month, she was crowned 3 times The Jasmin Top Model and worked non stop for a whole year, every night staying more than 10 hours online. After a period of fame on the chat site, Georgiana starts to fall from the top. She can't stand earning much less, she is furious some younger girls, ready to do even more strange acts for money, are replacing her. Georgiana ends up consumed by the way the chat industry works, she starts working from home and has health problems because of all the coke and Redbull she drank in order to stay awake every night, for years on end. "You can't be sane if you're paying in order to talk to girls" is Georgiana's resentment towards the chat clients and ideology. Nonetheless, she can't give it up as it took to much to let her start over.

Both girls started out the same, became friends while working in the same studio but the live chat industry seems to give some rewards while taking a lot back from them. Mona and Georgiana fall apart and each tries to get by in her own manner, will they succeed or has the industry made irreparable damage?