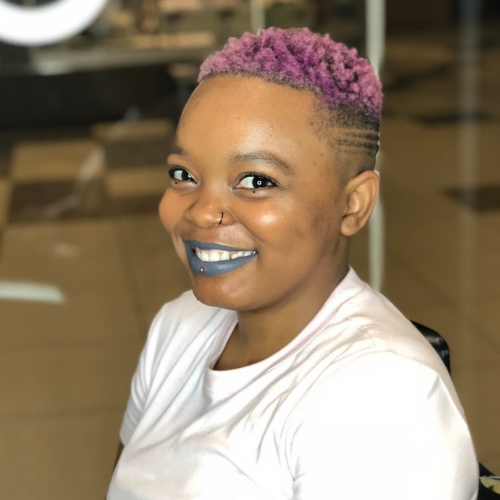 Tshegofatso Senne
Writer and Speaker
Tshegofatso Senne is a Black, queer, feminist writer, speaker and digital content creator. She writes and speaks on issues concerning feminism, sexual and reproductive health and pleasure, consent, rape culture, race, intersectional social justice and pop culture. She has had a paper entitled Deaf women's lived experiences of their constitutional rights in South Africa published in Feminist Academic Journal Agenda as well as an essay published in Writing What We Like, edited by Yolisa Qunta. Senne's writing appears in Mail & Guardian Friday, The Citizen, MTV Shuga, W24 and Huffington Post SA, among others.

She is an experienced facilitator and her workshops have included:
-'Safe Sex and Pleasure' hosted by Hola Africa, focused on consent and the basics of BDSM. -'Too Taboo' on consent to students at the University of the Free State as part of the student-organised Anti Rape Culture March.
-'Free Space: It's time for womxn to talk about sex' in which she focused on issues of consent. The workshop was hosted by Iranti, a queer human rights visual media organisation.